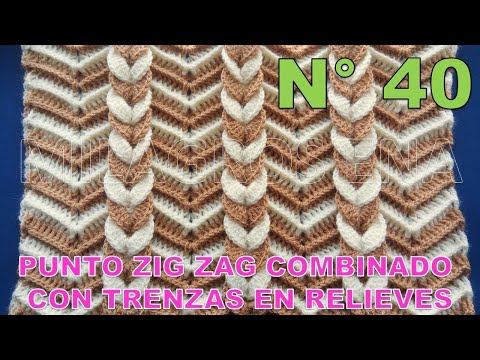 Como tejer Punto a Crochet o ganchillo Trenzas en Relieves combinado con punto Zig Zag para Cobijas de Bebe paso a paso, también lo pueden aplicar en cualquier prenda tejida de invierno y con diferentes lanas e hilos.
How to knit Crochet or Crochet Knitting in Embossed Braids combined with Zig Zag stitch for baby blankets step by step, can also be applied to any woven winter garment with different wools and threads.
Como tricotar tricô de crochê ou crochê em tranças em relevo combinadas com pontos Zig Zag para cobertores de bebê passo a passo, também pode ser aplicado a qualquer vestuário de inverno tecido com diferentes lãs e fios.
Comment tricoter Crochet ou Crochet Tressage en Tresses Embossées combiné avec Zig Zag point pour les couvertures de bébé étape par étape, peut également être appliqué à n'importe quel vêtement d'hiver tissé avec différentes laines et des fils.
Come lavorare a maglia all'uncinetto o all'uncinetto in trecce in rilievo abbinate a punti Zig Zag per coperte bimbo passo dopo passo, può anche essere applicato a qualsiasi indumento invernale tessuto con diverse lane e fili.

MI CANAL TEJIDOS PARA ZURDOS:
https://www.youtube.com/channel/UC1FR...

MI OTRO CANAL DE TEJIDOS OLGA HUAMAN:
https://www.youtube.com/channel/UCLmO...

DALE "ME GUSTA" A MI PAGINA DE FACEBOOK: https://www.facebook.com/TEJIDOSMILAG...

PUBLICA TUS FOTOS EN NUESTROS GRUPOS DE FACEBOOK:
* GRUPO TEJIDOS A CROCHET Y PALITOS CON OLGA HUAMAN Y MILAGROS ENA: https://www.facebook.com/groups/grupo...

* GRUPO TEJIENDO CON MILAGROS ENA: https://www.facebook.com/groups/TEJIE...