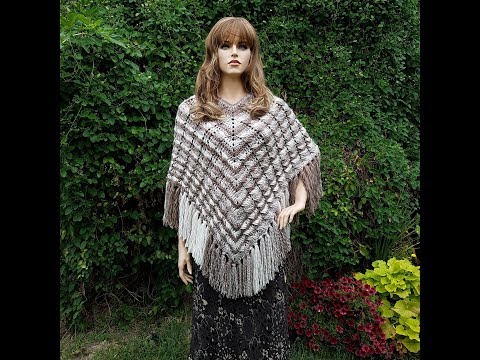 One Size Fits Most
WRITTEN PATTERN
https://www.etsy.com/listing/54979763...

MATERIALS:
SIZE K: 6.5MM HOOK
1500yds LION BRAND SCARFY YARN
COLOR: TOUPE / CREME

https://www.etsy.com/shop/BagoDayCroc...

https://www.facebook.com/Bag-O-Day-Cr...

CROCHET CABLE STITCH LADIES PONCHO. CROCHET PONCHOS, CROCHET SHAWLS & CROCHET ITSELF ARE BECOMING MORE AND MORE POPULAR. I SEE ALOT OF PEOPLE MAKING A LIVING SELLING CROCHET ITEMS MADE FROM MY CROCHET TUTORIALS & I THINK ITS GREAT! CROCHETING GIVES YOU FREEDOM TO CREATE BEAUTIFUL ITEMS. WHICH YOU WILL OFTEN GET PRAISE FOR (A BIG TIME CONFIDENCE BOOSTER!) & GENERATE AN INCOME FROM HOME! CROCHET TRULY IS A BLESSING! SO IF YOU WOULD LIKE TO LEARN HOW TO CROCHET JUST PICK UP A CROCHET HOOK & WATCH A BAGODAY CROCHET TUTORIAL !